Architectural Metal Essentials: Brass and Bronze Handrails Explained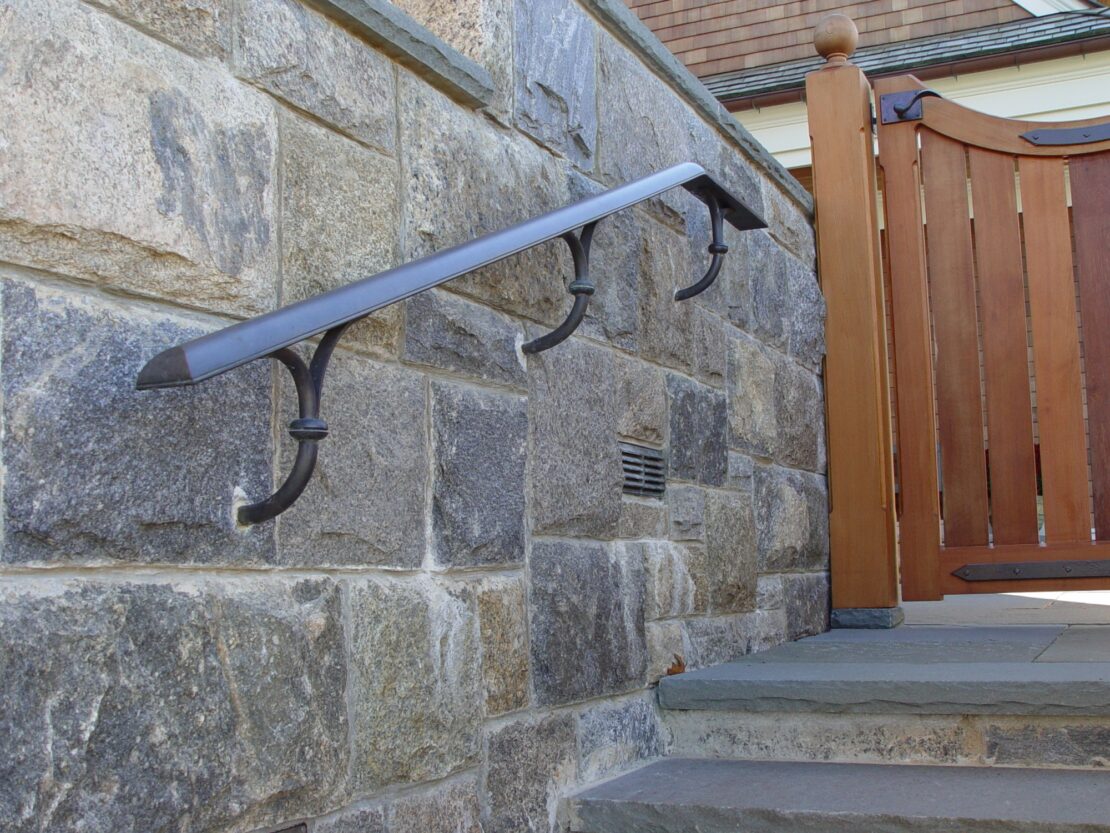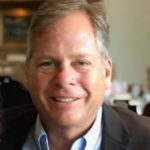 Bronze Step Rails by Wiemann Metalcraft Architectural Metal Essentials: Brass and Bronze Handrails Explained Published on July 24, 2019
Douglas Bracken President at Wiemann Metalcraft  



If you have ever lost your footing and saved yourself from a fall by grabbing a step railing or wall mounted handrail, you really don't care what the material is! But, if you have ever had to manage the long term maintenance costs and criticism associated with up keep on painted handrails, Bronze handrails become an attractive, and practical choice. Painted steel handrails may be cost effective for some applications, especially in the short term, but after only a brief amount of wear, they can look unsightly and require ongoing maintenance. Exterior railings such as those shown here above, will start rusting as soon as the coating is compromised. Rings, skateboarders, clothing accessories and general traffic will all take a toll on handrail finishes. Using bronze eliminates or greatly reduces the need for maintenance which in turn makes them far more cost effective in the long run. 10-20 years from now steel may be getting replaced while the bronze will just be getting refinished.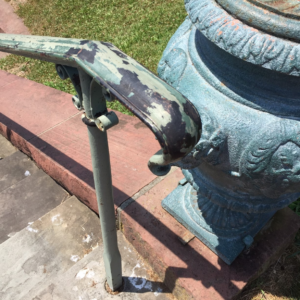 What is Architectural Bronze?
Interestingly, architectural bronze is alloyed with zinc, making it brass by definition while bronze is alloyed with Tin. Regardless the reason for the name (I think it was clever marketing) architectural bronze, known by its Copper Development Association code as CDA 385, is about 60% copper and 40% zinc and very easily extruded or drawn into the shapes that are widely used in the architectural metals industry. When you see a bronze handrail in the wild, it's a safe bet that it is alloy 385 architectural bronze. Fabricators like ourselves typically rely on the stock provided by firms which inventory common shapes. But, for special projects or projects which require extensive amounts of materials, the fabricators will often go to a custom extrusion supplier and source the materials almost directly from the mill to save money and also get custom shapes or details that make their work, or the designers work stand out. Large mill runs of custom extrusions generally cost less per pound than wholesale stock items due to elimination of inventory costs, but then again, a moderate volume order is key and the lead time is extended.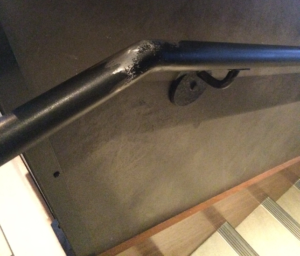 What is the foundation of good handrail design? Here are the essentials you need to know before you spec or design your next project with bronze handrails:
1. Bronze handrail shapes are always combined with channels and flat bars to add dimension for graspability, create a concealed location for fasteners and to add strength. In many applications, the support members which do not get nearly the wear of the top surfaces, can be painted steel which offer savings.
2. The widest common profiles used are 2.25"and they can be installed on substrates that create a rectangular shaped perimeter or circumference that measures between 4" and 6.25". Handrails must have at least a 1.5" gap between them and the adjacent wall or other projection and they must extend 12" past the first riser on the pitch and 12" past the last riser in the level.
3. Experienced architects know that wall brackets and posts in single line bronze handrail configurations need to be 48" or less between vertical supports. This will insure that the railing will meet the load requirements and not feel excessively spongy or springy when tested by the users. Make sure there is adequate blocking st the bracket or post location as well.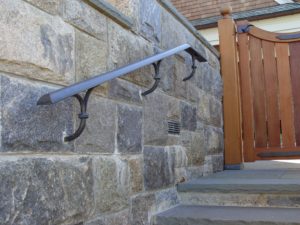 4. When possible use solid bronze posts posts. The posts should be 1.25" (residential) - 1.5" (commercial) square or round and solid, not hollow. Hollow bronze posts usually have generally don't meet engineering requirements unless they are reinforced partway up, and when installed outdoors, water condenses inside the tubes or weeps in from the top connections and, over time, and that water may pool and collect inside the post and cause freeze thaw damage or accelerate galvanic corrosion. Tapered solid posts work too as long as the base is 1.25-1.5" wide where it is anchored. Specifiers should also demand mastic or paint protection for the metal which is embedded into masonry. Copper alloys, when exposed, without protection, to limestone or lime mortars, will corrode quickly in the presence of water.
5. Joinery in bronze handrail construction is key. Mechanical connections, minimal welding and hidden welds/brazing/soldering are essential for an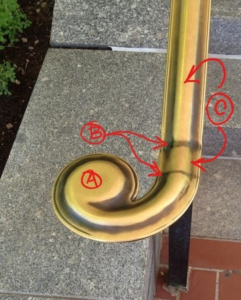 attractive finish. Exposed welds, shown here as "B" should be avoided because they will darken more quickly than the base metal and become very visible over time. Terminals, the ends of the handrail, should also be considered. For the most popular handrail profiles, there are lateral volutes (shown here), scroll ends and square miter returns to match all from a cast alloy similar to the extruded 385. If you are working in a custom extrusion, then the terminals will also need to be custom.
In this image to the right: A. is a cast lateral scroll B. Are two exposed welds or solder/brazing joints. C is the extruded handrail material.
6. Underneath any coloring of the bronze, will be a mechanical finish such as a linear grain which is applied to the metal directly. The specification of this finish is important as it adds to the labor cost of any project. Polished bronze handrails are more costly due to the time it takes to achieve a mirror like finish. Most bronze handrails are satin finished, meaning a linear grain running the long direction of the material, but they can be polished or non-directional finished such as by abrasive grit blasting or sanding.
7. Once the desired surface texture or grain is achieved the bronze may be colored by patina. Most bronze patinas are achieved with the application of with pre-mixed chemical patina solutions sometimes in the fabricators shop and sometimes in the field after installation. Patinas often go very dark and are then buffed back to reveal some of the bronze metal underneath which gives the metal a lustrous and rich appearance. The final shade of the bronze color is then often sealed and protected by a clear coat, wax or lacquer. This is also often called a "living" finish since it will change color over time or when the clear coat is worn away.
Patina work can be tricky for the uninitiated and can be done with heat (as shown here) or at room temperature.
Air and metal temperatures, humidity, water hardness, metal alloys and other variables will hamper the production of a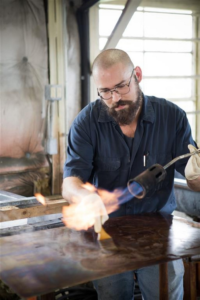 perfect color in patinated metals. If the work is already installed and need to be refinished including patina and or lacquer, on site metal restoration firms such as Lee Quigley Co. and Stuart Dean Co. can provide expert coloring and lacquering to keep your railings looking their best.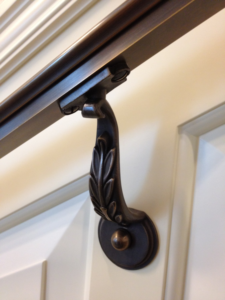 8. When coatings are used on bronze to protect or extend the life of the patina finish, they are often high performance lacquers which offer excellent protection but are also easily stripped and reapplied when required. Incralac and Permalac offer added protection in the form of Benzotriazole which retards the tarnish on copper based alloys. Other manufacturers such as GJ Nikolas and Sculpt Nouveau offer a wide range of coloring and coating options, as well as UV stability and water based options that are compatible with current environmental regulations. Yes, you can use urethanes and even clear powder coats to protect the brass, but when those coatings fail and need to be refreshed, stripping them will be extremely difficult and may result in damage to the original metal underneath. Lacquers therefore are the most practical and popular choice.
In summary, the beauty of bronze is in its longevity and rich finish. If the installation is performed well (a topic I covered in previous blog posts), the handrails will last indefinitely which offers great value for long time maintenance and the long term cost of ownership as well as impact on the environment is significantly less than painted steel.
Resources:
Wiemann Metalcraft Specializes in the design, engineering, fabrication, finishing and installation of fine quality bronze railings. www.wm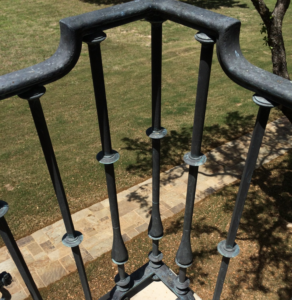 craft.com
National Ornamental and Miscellaneous Metals Association NOMMA The Trade Association for Ornamental and Misc. Metals Fabricators  
Wagner Companies Nationwide suppliers of railing components and associated fittings. 
Julius Blum Nationwide suppliers of railing components and associated fittings.
Copper Development Association Trade Association dedicated to promoting the copper and copper alloy producing and using industries. Technical data on copper alloys.
Protecting Bronze Against Pollutants article by Copper Development Assoc.
NAAMM NOMMA Finish Manual Updated manual to assist specifiers and architects in development of finish specifications for all metals, including brass and copper.
Lewis Brass Nationwide suppliers of railing extrusions and architectural bronze shapes.
Incralac, Permalac, GJ Nikolas, trade names and manufacturers of coatings and lacquers designed specifically for architectural brass and bronze finishing.
Sur-Fin Chemical, Birchwood Casey, Sculpt Nouveau, Jax Chemical, SSS Chemicals, EPI Chemical. All manufacturers of chemical patina solutions used by the architectural metal finishing
Stuart Dean and Lee Quigley Co's both perform metal, wood and stone restoration nationwide. Many local providers are also capable.