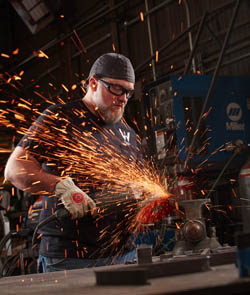 Fine Quality Custom Metalcraft Since 1940
Wiemann Metalcraft serves clients nationwide and internationally as a full service, architectural metal fabrication and blacksmithing firm. For 80 years, since our founding in 1940, we have created elegant solutions to meet budget, timeframe and aesthetic considerations in both traditional and contemporary metalwork. We have worked in nearly every State plus many locations in the Caribbean and Mexico. Our custom cast and wrought ornamental and architectural metal fabrication work includes:
metal and glass stair and balcony railings
, canopies, monumental stairs,
driveway and pedestrian gates
, decorative fences, entry doors, gazebos, trellises and other
ornamental garden structures
, site furnishings and much more. Project management expertise allows us to coordinate a wide range of trades to facilitate exacting solutions in all types of decorative metals. With the largest blacksmithing shop in Oklahoma, Wiemann Metalcraft is prepared to take on the most challenging architectural metal fabrication and blacksmithing commissions in bronze, steel and stainless steel. Wiemann is also recognized as a leader in patinated, oxidized and blackened steel and bronze finishes in addition to our automotive grade liquid paint capabilities. Call us for solutions to your next
blackened steel project
. In 2010, Wiemann began offering the distinctive line of cast iron gates and railings
Heritage Cast Iron USA
 HCIUSA  offers stunning Victorian inspired collections of Cast Iron Railings, Gates and Decorative Fencing  include beautiful reproductions of English, Australian and Scottish designs for
Driveway Gates
, Fences, Pedestrian Gates,
Garden Gates
and both
36″ and 42″  code compliant stair and balcony railings
. Our HCIUSA products have been approved by numerous Landmark Architectural Review Boards as well as the National Park Service for use in architecturally sensitive restoration and regeneration projects. From estate fencing and gates to municipal, institutional, hospitality and waterfront railings, cast iron is the preferred material choice for longevity and low cost of ownership. Our new line of cast iron railings are engineered to meet ICC fall protection requirements for residential and commercial applications and supplied ready to install with no welding necessary. Finally, in 2019, Wiemann joined forces with
Crittall Windows
, the original manufacturer of steel windows and doors. We now offering their products to our clients alongside our custom architectural metal fabrication and blacksmithing work.
Crittall Windows are proudly crafted in Britain
, as they have since their founding in 1849. They have the capacity and quality to handle very large commissions nationwide.